Are you thinking about getting eyelash extensions?
Perhaps you've seen somebody with an amazing new flutter, and you're wondering WOW, they sure look real, but how are they applied? And then with a quick google search, you come to know there are loads of eyelash extensions with different styles available. So, now what to do? Well, let us make it simple for you!
The basics:
Don't confuse lash extensions with other types of false eyelashes or lash strips that you can buy and put on yourself at home. Here are top things to know:
Extensions are typically only applied to your top lash line (but, there are exceptions)
They're applied with a semi-permanent adhesive to each of your individual natural lashes by a professional stylist
Can be applied to your lashes individually, or in clusters, and this makes all the difference!
It's all about customization!
Things to consider when selecting eyelash extensions:
The qualities of your natural lashes – their length, volume, color and curl (if any)
Your preferences – a natural look, a glamorous look or a dramatic look
The orientation of your eyes – deep set, wide set, close set
The size of your eyes – large, small or in-between
Your eyelids – mono-lids and hooded eyelids have different considerations than other lid types
Your eye color
Any allergies or sensitivities you may have, and last but not the least
Your tolerance for upkeep
A good lash technician will take your face shape, bone structure, and natural lashes into consideration and advise you accordingly.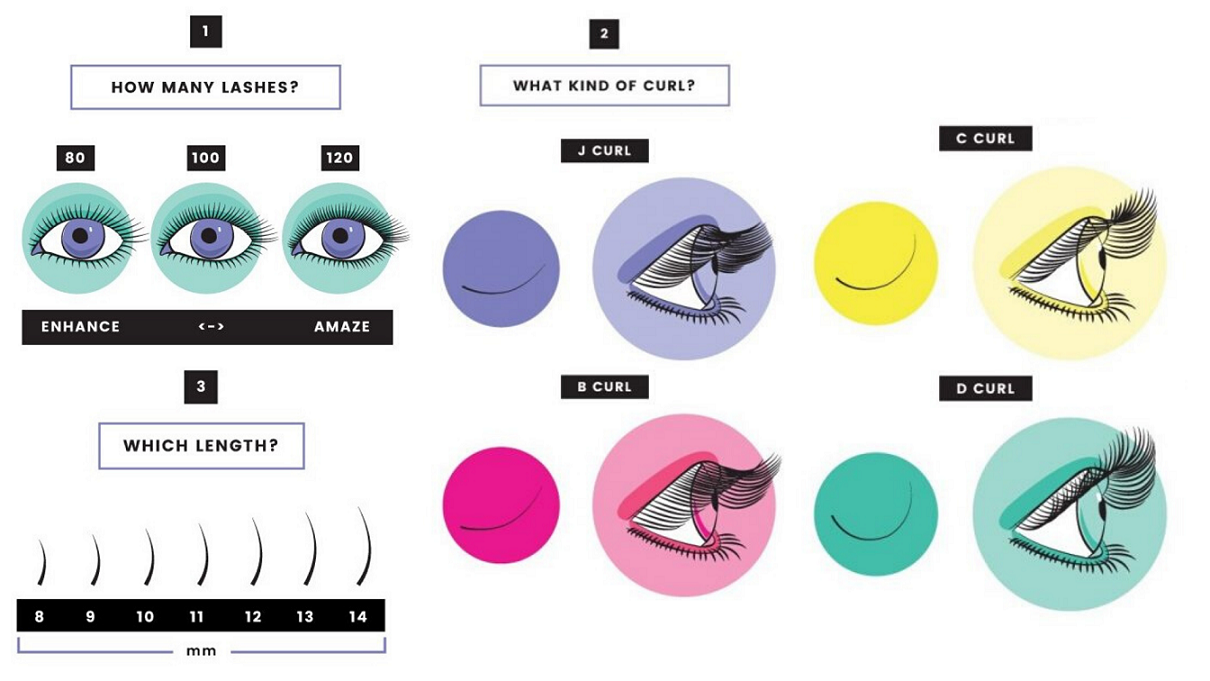 Do extensions ruin your natural lashes?
Good News! There isn't much evidence that could prove whether eyelash extensions actually affect the length of your natural lash or its health in the long-term.
However, nothing comes without its risks, right? So it's safe to say that there remains a small risk that one might develop traction alopecia, which is where your natural lashes can fall out as a result of the constant weight of repeated eyelash extensions. But don't freak out—it doesn't mean it'll automatically happen to you. it usually takes years of bad application and improper care for long-term lash damage to happen as a result.
Ask about the lash adhesive.
Nobody wants inexperienced people sticking things to their eyelids. It's a sensitive area and demands a certain level of care. Ask the technician about the ingredients of the lash adhesive. It shouldn't contain formaldehyde, which is a known eye irritant that can cause redness, irritation, and itchy, swollen eyelids. Choose a salon that uses glues made with butyl cyanoacrylate and octyl cyanoacrylate instead of formaldehyde—they're less toxic to the eye area.
Can I wear makeup to an appointment or afterwards?
Definitely not. You must show up to your appointment with clean skin and no eye makeup. That means absolutely no eye shadow, eyeliner, mascara, or for that matter, any kind of creams. Anything on your lids or lashes could affect how your extensions turn out, and slow or hamper the process.
However, you can wear makeup after lash extensions have dried and completely settled. We advice not to wear mascara's though. Why? Because when you attempt to take it off at the end of the day, you can actually cause your extensions to break from the friction and makeup remover, and that will ruin your whole look.
How long does it take to get lash extensions?
The bad news? It takes between an hour or two to get a full set of lashes applied onto your own by an experienced technician. The glue used should not make your eyes watery constantly because if that happens, it is a HUGE RED FLAG. The good news? You can use it as an excuse to lie down, relax, and take a forced break from your phone.
Can I shower or swim with my eyelash extensions?
Yes, most definitely, but not until you've waited at least 24 hours after your appointment. Reason being, eyelash adhesives vary in the time they take to cure, from either 12 to 24 hours. Our technician will guide you specifically about how much you ought to wait as a precaution.
How do I know what size eyelash extensions to get?
The type of lashes you can get all depends on the length and strength of your natural lashes. Our lash specialist will help you make the best decision for your lashes, including what type of material you should get.
Have a look at the lovely difference extensions create:
At Maxi Care Beauty Secrets, we have…
We have 3 variations to the kind of lash sets we apply:
Natural Set: up to 50-60 lashes per eye
Dramatic Set: up to 70-80 lashes per eye
Glamorous Set: up to 100 lashes per eye
We use lashes that are between 8-14mm in size, and have J, B, C, CC and D curls.
Here is a chart to explain things better.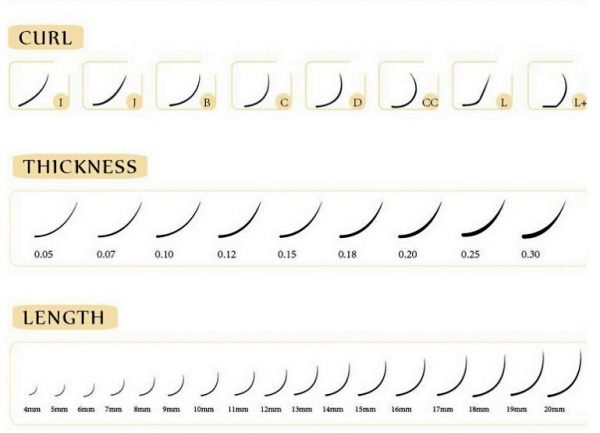 Click here to check out our prices for eyelash extensions.